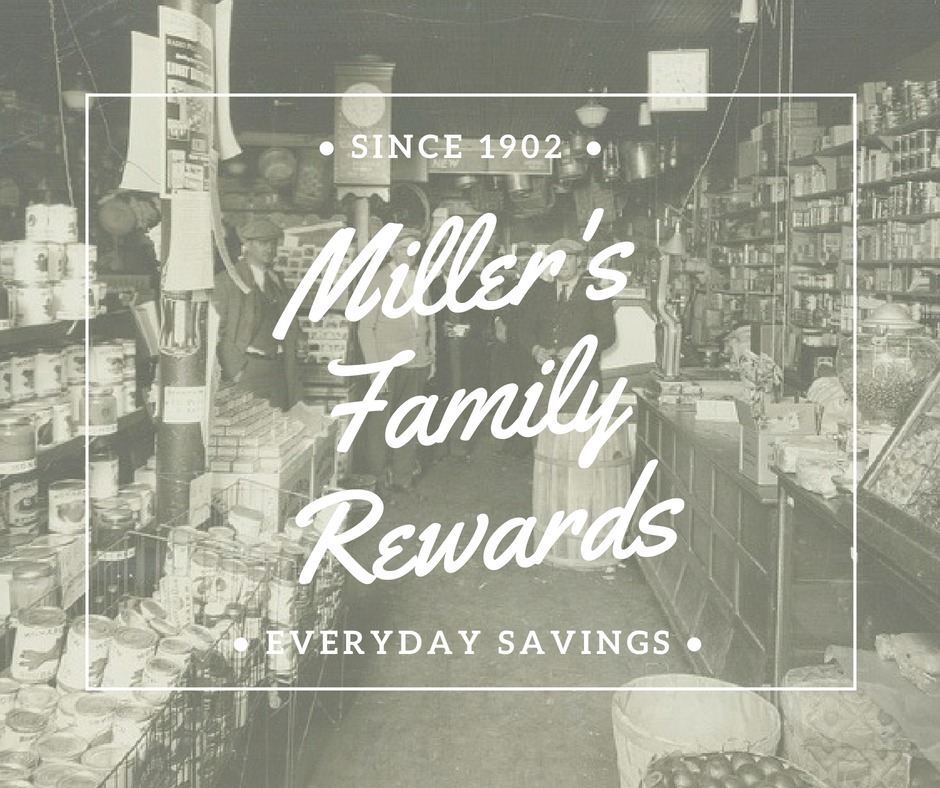 Miller's Family Rewards FAQ's
Most frequent questions and answers
How do I join ?
Signing up is Easy! Just give us your phone number when you check out. If you wish to receive email and text notifications – you can register for this. Enter your email at check out or later after the Appcard app has been downloaded to your phone.
Do I need a card to receive rewards points ?
No. Just enter your phone number at checkout.
Do I need to enter my phone number to receive Sale Prices ?
No. You will receive any promotional pricing with out entering your phone number at check out. You will not earn points and receive rewards without entering your phone number at checkout.
How do I earn points and Rewards ?
Enter your phone number every time at check out. Earn 1 Point for every $1.00 spent. Receive 50 bonus points when you sign up. Receive 50 points for signing up with email. Receive 50 points for opting-in to receive text messages.
100 points = $1.00 Off
200 Points = $2.00 Off
300 Points = $3.00 Off
400 Points = $4.00 Off
500 Points = $5.00 Off
On your birthtday you will receive a reward for $5.00 off any Bakery purchase.
Other rewards will be offered based on store promotions and your purchase history.
Is there a limit to how many points I can earn ?
Do my points ever expire?
Your unused points will expire in 2 years.
What types of purchases will earn points ?
All items purchased at either Miller and Son's Supermarket will earn points – excluding Tobacco and Lottery purchases.
I did not provide my phone number at checkout - but have receipt. Can I still receive my points ?
We are unable to give points for a past transaction if a phone number was not entered at checkout.
Is there an App I can download for Miller's Family Rewards ?
Yes. After you sign up with phone number and register – you will receive a text or email with a link to the Apple Store or Google Play Store. Download the "AppCard" app. You will be able to review any past purchases with the app. If you opt-in every receipt will be available to you.
What does Miller's and Son's do with my personal information when I sign up for Miller's Family rewards ?
Miller and Son's Supermarket collects your phone number at a minimum to sign up for Miller's Family Rewards. We will never sell your personal information to anyone. We use this information to better understand customer buying habits and reward our customers.
If you complete registration to Miller's Family Rewards and give us your email address you may receive promotional emails in which you can "unsubscribe" at any time.
You may also receive text messages and push notifications for promotions. You may "opt-out" of text messaging at any time. You can change settings on your mobile device for push notifications.
Questions or concerns?
Email us at:
support@millerandsonssupermarket.com